I am a teacher educator from Athens, Greece. My job is to train English teachers and help them become better teachers in the classroom.
One year ago, I started blogging. My blogs are written for teachers of English and you can see them here:
So here I am writing this post to share my enthusiasm about blogging with you and to make you start blogging too!
Why do I blog?
Richard St. John shares his eight secrets of success in a fantastic video and I want to talk about blogging and how I think it is connected to these eight great secrets.
Here are the eight secrets in a word cloud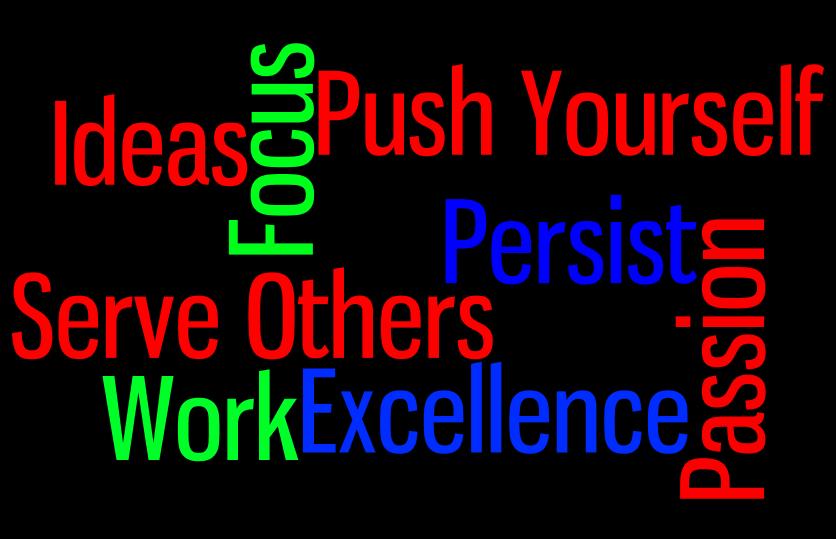 Richard St.John's Eight Secrets of Success – Made with http://www.wordle.net/
I blog for all the reasons in the word cloud:
I blog because I want to be an excellent educator (Excellence)

I blog because I want to share my ideas (Serve Others)

I persist even when I am tired; good results need hard work! (Work!)

I blog to focus more on my interest and learn more about it (Focus)

I blog because this makes me think and learn new things (Push Yourself)

I get more ideas by trying to explain my ideas to other people. (Ideas)

I blog because I love my job and I am passionate about teaching (Passion)

I persist because I believe communicating your ideas is important for learning (Persist)
What should you blog about?
Blog about something you love, something you are passionate about. It may be your stamp collection, it may be travel, it may even be your love of the English language!
If you love your subject, you will find more things to write and you will also find the time, no matter how busy you are.
It takes time but it's worth it!
Writing helps you become a better writer and the better you get, the more your English will improve!
May be you will find it hard at the the beginning. I found it hard too!
But with time, it gets easier. Remember! You won't get better by waiting! You will get better by trying!"
Go beyond your comfort zone
Challenge yourself and you will surely be amazed by how much you will learn by communicating with the world!
And if you would like to listen to this great talk which inspired this post, here it is below, one of the great TED talks.
I look forward to reading some great posts.