I've always been fond of eating salad, so much so that I find any meal incomplete without it. Breakfast is an exception, by the way. Even when I was a kid I would eat my lunch or dinner halfheartedly if salad wasn't there. If something else wasn't available, I would thinly slice onions and tomatoes and sprinkle them with salt and black pepper and add juice of a lemon....one of the yummiest salads of world is ready to eat! Add finely sliced green chili and chopped coriander if you like. :)
Last night, I was browsing through MyEC gallery and I found a photo of salad leaf water cress posted by lovely Adaline Bala. I've seen water cress(I wish what I've seen is the same thing people eat as salad!) but I never knew people eat it. So I became curious what other vegetables and fruit are eaten as salad by people living in different countries. Below I'm sharing the names of vegetables that are eaten as salad in my home.
1. Tomatoes
2. Onions
3. Green mangoes
4. Radishes and Daikon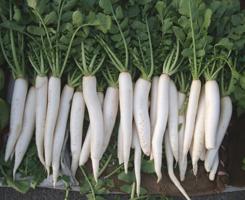 6. Lettuce
7. Cabbage
8. Lemon
9. Carrots
10. Beetroots
11. Capsicum
12. Coriander and green chilies(as an addition to some salads in small quantity)
13. Cucumber (OMG! I almost forgot the most commonly eaten vegetable!)
14. Armenian cucumber
I know people eat spinach as salad but I personally haven't tried that yet. I also am aware that people add different kinds of fruit like apples and oranges to their salads but I don't think I'd like it. To me salad means RAW VEGETABLES! :)
May I know what vegetables or fruit do you eat as salad? And most important, do you like salad?