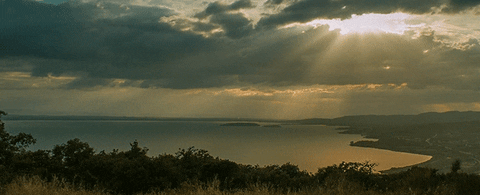 Aloha EC ladies and gentlemen!
When was the last time you enjoyed a sunset or a dawn? (which one do you prefer?)
A beautiful and easy thing to do, isn't it?
It's one of these little things we all can do to bring us a smile. And it just takes few minutes! A short break from our super-busy-daily-routine-full-of-important-things-to-do :P
Anyway, apart from bothering you with sunsets and dawns talk, I wanna share a very interesting documentary film that was released just few days ago (October 21) 
Before the Flood is a movie made by National Geographic with Leonardo DiCaprio in a three-year journey exploring the subject of climate change ---yes, Hollywood stars are useful for helping to spread this message, at least :P 
I know the topic might be not so 'appealing' for some people, but it really worth... and it's a movie not so 'hard' to watch since it has been made for mass comsuption "in an effort to inform and spur the public into action."
You can watch the full documentary online because it's already available on different platforms. But you don't even need to look for it because I'm sharing it here:
If youtube is not available in your country, you can also find the full movie in the National Geographic Channel (here: http://channel.nationalgeographic.com/before-the-flood/videos/befor...) And also here: http://fmovies.to/film/before-the-flood.4qzlk/zx1mnl (you can see the english subtitles clicking on cc)

Oh and btw! This can be also like a listening skills practice to improve your English, so you're killing two birds with one stone! :P
Thanks for reading and... don't forget to take a break for enjoying a sunset or a dawn one of these days ;)
Have a nice weekend.